Match calendars show match dates of your favourite teams in your favourite leagues. These calendars can be used by anyone, they do not require a Prediction Games account. They can be imported in external calendar tools as iCal format.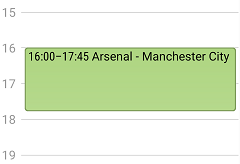 Step 1: select the team(s):
All teams
Step 2: select the competition(s):
Step 3: You may create calendar entries for future matches only, or also for past matches including the results, looking back as many days as you like.
Enter days looking back: e.g. 28 for including matches of the past four weeks.

Step 4: Use this URL for adding match times to your calendar. This provides calendar entries in iCalendar format, which can be added to your personal calendar.
https://prediction.games/calendars/matches/all/all/0
How this is done depends on the platform you use for your calendar.
For complex conditions you may need to create more than one calendar, and add them all, one by one. For example you may create one calendar showing all the matches of Liverpool in all competitions, and a second calendar showing the matches of all the teams in the World Cup.
Please note that while the calendars on Prediction Games are updated immediately, it may take up to one day for the calendars to be synchronized in your platform. There is nothing we can do to reduce this delay.
Please note that exact match times may be fixed only a few weeks in advance, sometimes less, depending on the competition. Match times in the more distant future must be seen as preliminary times only.